Q. How can I modify or cancel my online order?
We
cannot modify your order once this has been placed,
including changing the color/size, adding/removing items or changing the delivery method.
If the cancel button is still clickable in the Order History page, you may opt to cancel the order and place a new one. We cannot guarantee that the item/s you have selected will still be available when you reorder.
To cancel your order, kindly follow the steps below:
1. Go to your Account.
On the app, click on the [MEMBERSHP] icon.                                                                                               

On the website, click on the [Account] icon. 

2. Select [ORDER HISTORY].

3. The [CANCEL] button will appear if your order is eligible for cancellation.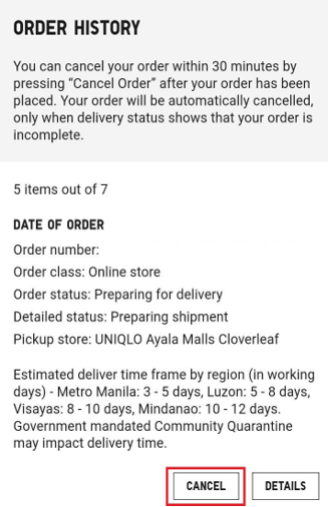 If the Cancel button is no longer available, you have an option to return/exchange the item/s, provided that it meets our
Returns Policy
. Or you may contact our Customer Support Team through the channels below for further assistance.
Feedback Submitted
We value your opinion and we aim to make our customers happy.
Rest assured, we will use this information to improve our products and services.